Xsensible's millionth Stretchwalker
1,000,000 pairs of Xsensible Stretchwalkers. What a milestone! The millionth Stretchwalker was put together in the Portugal factory at the end of May and we were there, ready with a bottle of champagne and a confetti cannon. Max Krol, Xsensible CEO talks about the success of the Stretchwalker concept, his favourite Xsensible shoes and offers a unique sneak preview.
The success of the Stretchwalker concept
With a million pairs of Stretchwalkers on the market, we've built a loyal fan base and we're making comfort accessible to everyone. Max Krol, Xsensible CEO stated: 'The shoe concept was developed in Japan. A country that honours traditions and knowledge that focuses on achieving the ultimate balance between mind and body. The origin of our shoes is based on the principle of balance embodied in the traditional 'Ippon-ba geta' Japanese slipper, which has the heel in the centre of the sole. This improves your posture and takes the pressure off your knees, lower back and shoulders. You feel the difference as soon as you put on these shoes. At the start, the model was only a success in Japan, but in 2013, we incorporated trends and innovations that were a better match for the needs of the Dutch market. The Stretchwalker became such a success that we've now produced our millionth pair. I'm incredibly proud of this milestone!'
Positive impact and pleasant walking
The Stretchwalker that Max always wears is the Golden Gate from the Next Generation collection; a symbol of the latest generation in the family company. The Golden Gate Stretchwalker is available in various colours for women and men. 'It looks so cool and the sole is so unbelievably comfortable that I forget to take my shoes off at night before getting in bed! It's simply the best Stretchwalker yet. The idea that our product should contribute to improving people's quality of life challenged me to keep introducing new developments and innovations to produce the very best shoes. We create positive impact with our shoes and we receive many messages from people telling us they can exercise better, walk for longer and have more energy because of our shoes. We make shoes that make you happy; shoes that take you places you otherwise maybe couldn't get to as it's too far for you. Making even these places accessible again. is exactly why we do this! We're looking forward to even more people getting to know our fantastic brand. My dream for Xsensible? To make it into a European brand where everyone is happy with our shoes. Onwards to 2 million!'
The big reveal
We launched the Hiking collection last year; the most comfortable, waterproof hiking boots with incredible grip. Currently, this collection comprises just one type of sole. 'I'm now delighted to reveal that we've been working behind the scenes to create a second sole and fit', stated Max. 'That's so we can give everyone the opportunity to wear our hiking boots. From a walking holiday in the Alps to a stroll with the dog through long, wet grass, the Hiking collection can be worn in any conditions. We're looking forward to the launch of our latest models this autumn.'
Stockholm with a golden edge
To celebrate the production of the millionth pair, we enhanced our popular Hiking shoe, Stockholm, with a metallic band in a champagne tint! The white sole gives the walking shoe a fresh look. Did you know that the Stockholm is available for women and men and in various colours? The Stockholm has sporty features and looks fantastic with matching walking socks. Sporty aspects combined with stylish accents; enjoy balance, comfort and grip on every surface with this innovative hiking shoe. Keep an eye out for the latest Stockholm in LINDA magazine soon!
A Xsensible treat!
1,000,000 pairs of Xsensible Stretchwalkers. We've simply got to celebrate that! Together with enthusiastic shop owners, we're searching for the greatest Xsensible fans in the three countries in which we're active: the Netherlands, Belgium and Germany. If you fancy winning an all-expenses-paid weekend in Berg en Dal, and receiving the millionth pair of shoes, visit our Facebook page now and read the conditions for this fabulous competition, because this prize could soon be yours!
On behalf of the entire Xsensible team I would like to thank you for your support.
Without you, we would never have reached this milestone!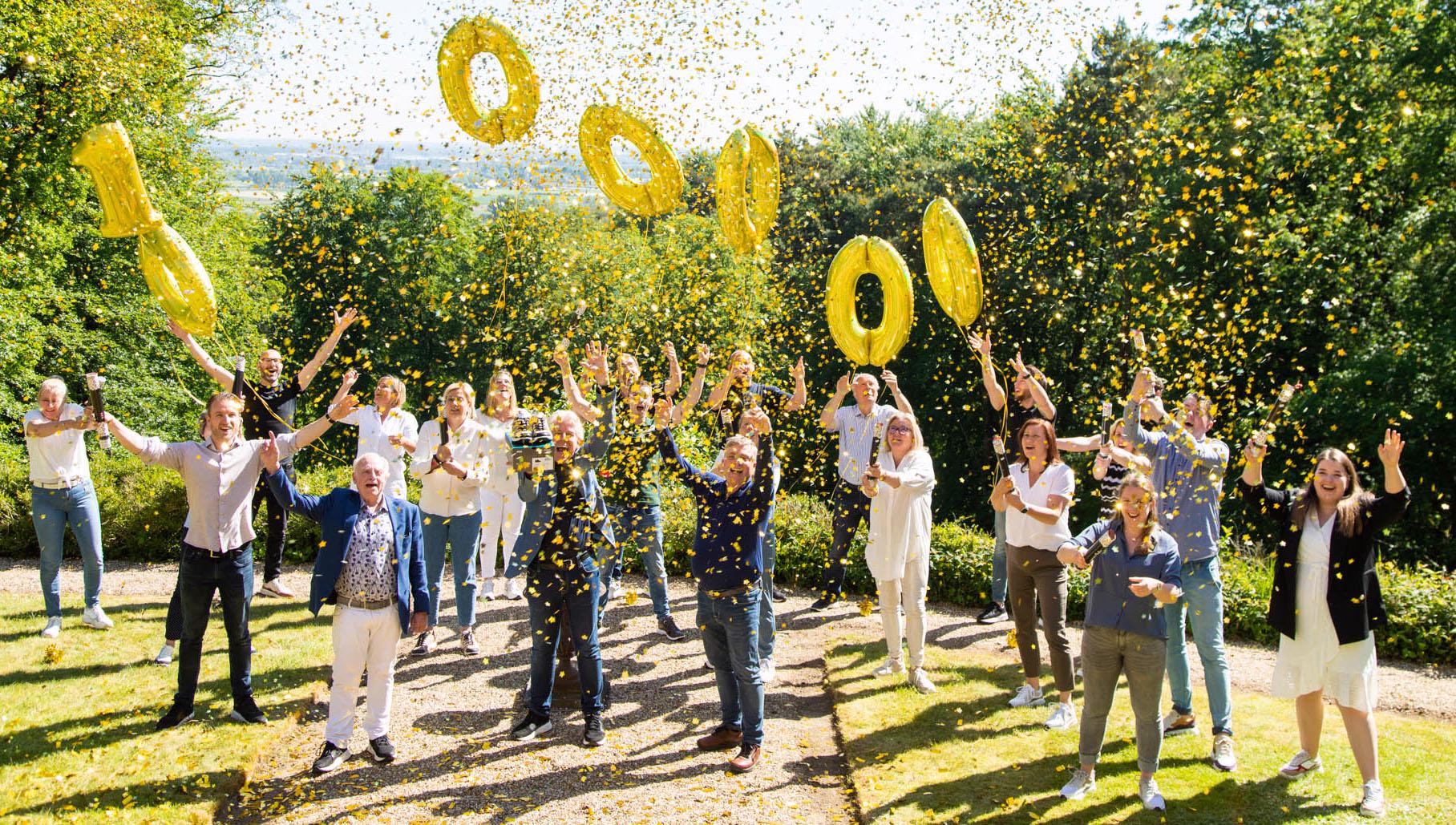 Back to overview
Back to overview