The best Stretchwalker ever
We are proud to introduce our entirely new limited edition sneaker line for women and men. 'Golden Gate' from the Next Generation collection is actually our best Xsensible sneaker ever!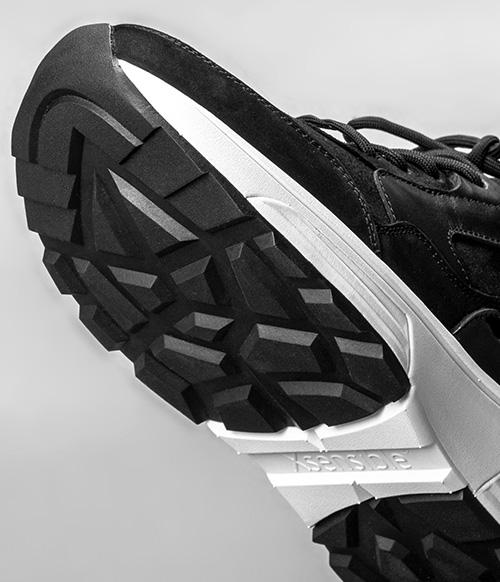 'With a million pairs of Stretchwalkers on the market, we have built up a loyal fan base. I am extremely proud, not only of this milestone, but also about the entry of the new generation into the family business and the introduction of our new limited edition!'- Max Krol, CEO Xsensible
A new generation within the family company
This contemporary shoe from the exclusive Next Generation sneaker line symbolises the new generation within the family company. Thomas and his twin sisters Do and Isabel will eventually take over the helm. A new era is approaching and this is reflected in this shoe, which is innovative without making any concessions on Xsensible's renowned comfort. 'With a million pairs of Stretchwalkers on the market, we know what consumers expect from us. The shoe incorporates all our innovative technologies as well as unique details that really make the difference, right down to the laces, where we've included the logo.
Limited edition sneaker Golden Gate
We are delighted to present this very limited 'Golden Gate' model as we have managed to create a sneaker with a sporty look, while offering you the joy of experiencing Japanese balance technology. This shoe is the cream of the crop and features those familiar qualities you expect from us. The shoe provides optimal support with every step. For women, this limited edition is available in Black, Nude and White. Golden Gate for men is available in the colours Black and Color Mix. Don't wait too long because the sneakers are a limited edition and are very much sought after.
Unique details
A streamlined silhouette combined with trendy colours; 'Golden Gate' is something you want to be seen in! Undoubtedly our best Xsensible ever and we have incorporated unique details in the design. We are issuing the shoe in a limited edition, which is shown on the base of the tongue. Each colour also has a special add-on. Golden Gate for women in black has a lacquer accent on the heel, for instance, ensuring that this sneaker is always a match for your favourite outfit. Golden Gate in Nude includes striking red accents on the heel. The nude shade exudes warmth and femininity, making this sneaker particularly versatile.
Enjoy grip, style and exceptional comfort wherever you venture
If you're curious about the collection, take a look at '
Golden Gate' for women and men on the website
or visit a store that's selling the limited Next Generation collection. Follow us on
Instagram
and
Facebook
to see more images of our best Stretchwalker ever.
Back to overview
Back to overview