ART. NR. 40206.5.301
Cork Women
These casual boots will be warmly received - and not only by outdoor enthusiasts. The calf-high boots in a mix of smooth leather and suede are inspired by hiking and prove their worth: they withstand wind and weather thanks to the Dry X waterproof membrane and they are comfortable thanks to the patented Xsensible Stretchwalker technology. These boots leave nothing to be desired on the fashion front either. Thanks to the slightly wider leg with stretch insert on the rear, these boots look cool combined with either jeans or midi length dresses.
Article number

40206.5.301

Color

Brown

Removable footbed

Yes
Available sizes
36-H
37-H
38-H
39-H
40-H
41-H
42-H
43-H
44-H
What is my size?
The best way of finding the correct size shoes for your feet is to ask your local retailer. They can professionally measure both your feet and the inside of the shoes. We recommend paying attention to both the width and length of the foot and shoe.
Shoes in our collection come in the following widths:
Width G: normal/average foot
Width H: slightly wider foot
Most of the shoes in our collection are made with our Xsensible Inside® Stretch Leather, which is indicated by the inclusion of the letter X after the width size, for example, the width GX. This patented technology ensures that our shoes adjust to your foot as the day goes on, and means that our shoes can accommodate a wider foot size. In some cases, this means that an H-size foot may fit into a G-sized shoe. Of course, this varies from model to model, and we always recommend that trying on the shoe is the best course of action.
Some models are supplied according to European (EU) sizes, and some according to British (UK) sizes. The table below indicates foot lengths and their corresponding shoe sizes.
| | | | |
| --- | --- | --- | --- |
| EU | UK Women | UK Men | Voetlengte mm |
| 36 | 3,5 | | 240 |
| 36,5 | 4 | | 243 |
| 37 | 4,5 | | 247 |
| 37,5 | | | 250 |
| 38 | 5 | | 253 |
| 38,5 | 5,5 | | 257 |
| 39 | 6 | 5,5 | 260 |
| 39,5 | | 6 | 263 |
| 40 | 6,5 | 6,5 | 267 |
| 40,5 | 7 | 7 | 270 |
| 41 | 7,5 | 7,5 | 273 |
| 41,5 | | | 277 |
| 42 | 8 | 8 | 280 |
| 42,5 | 8,5 | 8,5 | 283 |
| 43 | 9 | 9 | 287 |
| 43,5 | 9,5 | | 290 |
| 44 | 10 | 9,5 | 293 |
| 44,5 | 10,5 | 10 | 297 |
| 45 | | 10,5 | 300 |
| 45,5 | | | 303 |
| 46 | | 11 | 307 |
| 46,5 | | 11,5 | 310 |
| 47 | | 12 | 313 |
| 47,5 | | 12,5 | 317 |
Still not sure about the correct size? Then we suggest you to visit your point of sale in the area where they can give suitable advice for your feet.

Wij helpen je graag
Wij helpen jou graag! Er zijn diverse mogelijkheden om met ons in contact te komen.

Je kunt ons via het contactformulier een bericht sturen.
We streven er altijd naar om uw bericht binnen 3 werkdagen te beantwoorden.
Contact form
Klantenservice
+31 (0)24 684 8080
De klantenservice is bereikbaar van maandag t/m vrijdag tussen 08.00 uur en 17.00 uur.
Email
Uiteraard zijn we ook per email bereikbaar:
info@xsensible.com
We streven er altijd naar om uw email binnen 3 werkdagen te beantwoorden.
Social Media
Stuur een bericht via
Facebook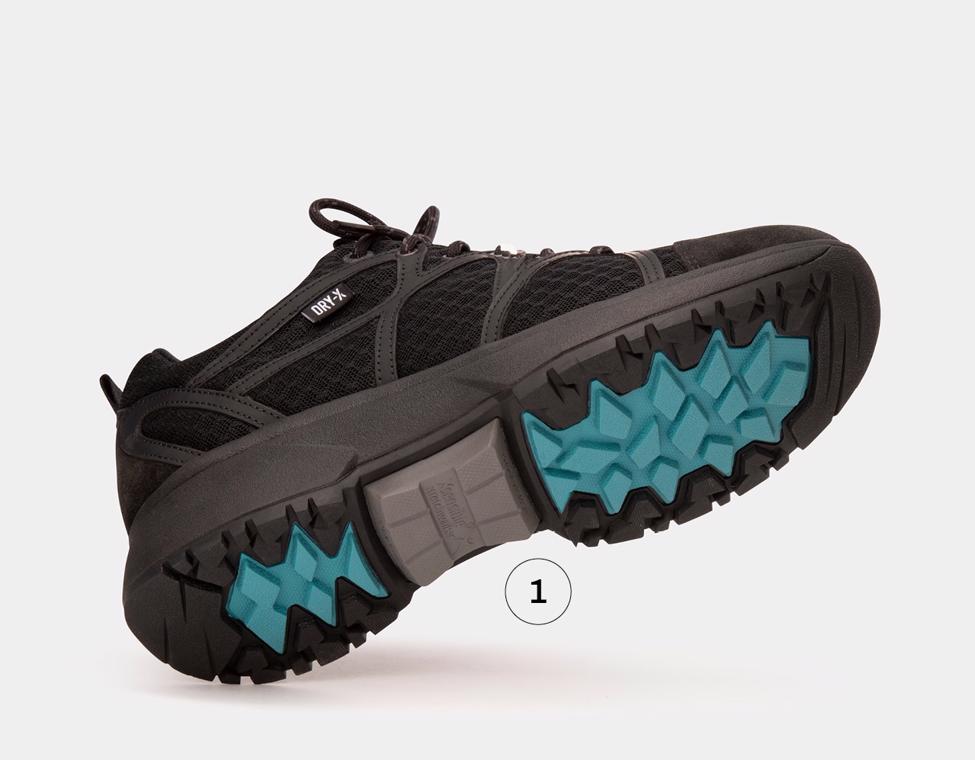 1. Stretchwalker
The best-balanced shoe
Well-being starts with your feet, and this is the foundation for the original Xsensible Balance technology. Just like our other shoes, the Stretchwalker hiking shoe is inspired by the balance principle inherent in the old traditional Japanese wooden sandal. Our shoes provide an optimal walking experience and contribute to a better posture. No more painful or tired feet, thanks to the combination of balance, stability, and the sublime cushioning throughout the sole. The Stretchwalker supports your whole body, inspiring a feeling of well-being.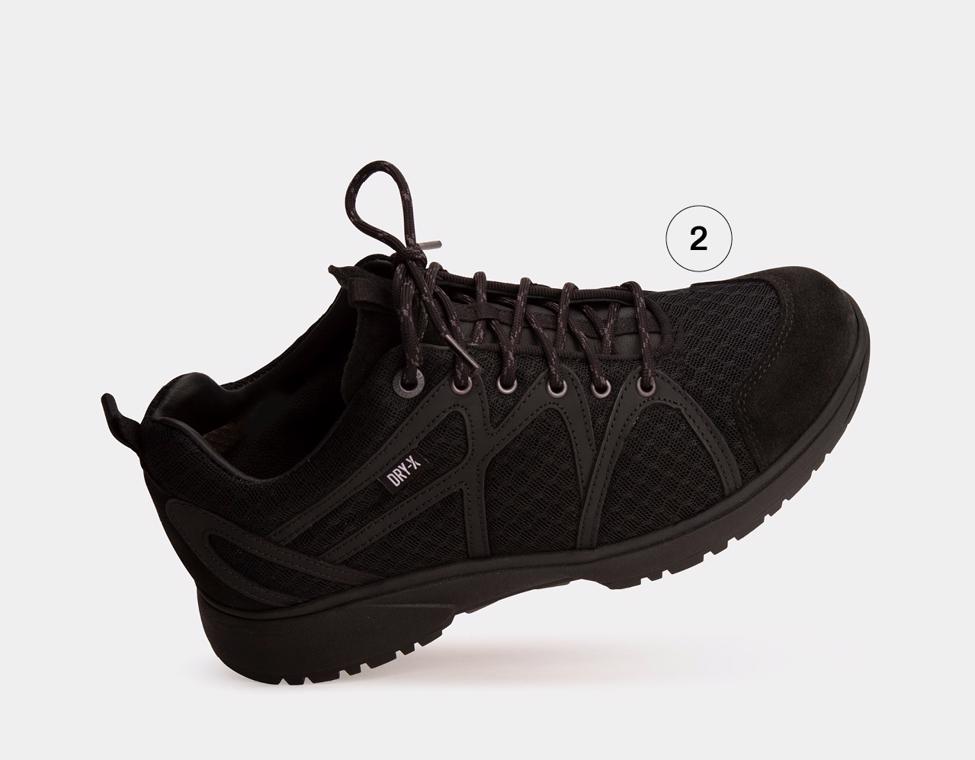 2. Stretchable
Elastic and durable
Hiking shoes should feel sturdy, offer strong protection against the elements, and at the same time feel extremely comfortable – just as you've come to expect from us. For the Stretchwalker hiking shoe, we have added a durable stretchable plastic fabric to the top layer. This not only feels like a second skin, it's also tough enough to withstand all of your outdoor activities, no matter how far you walk.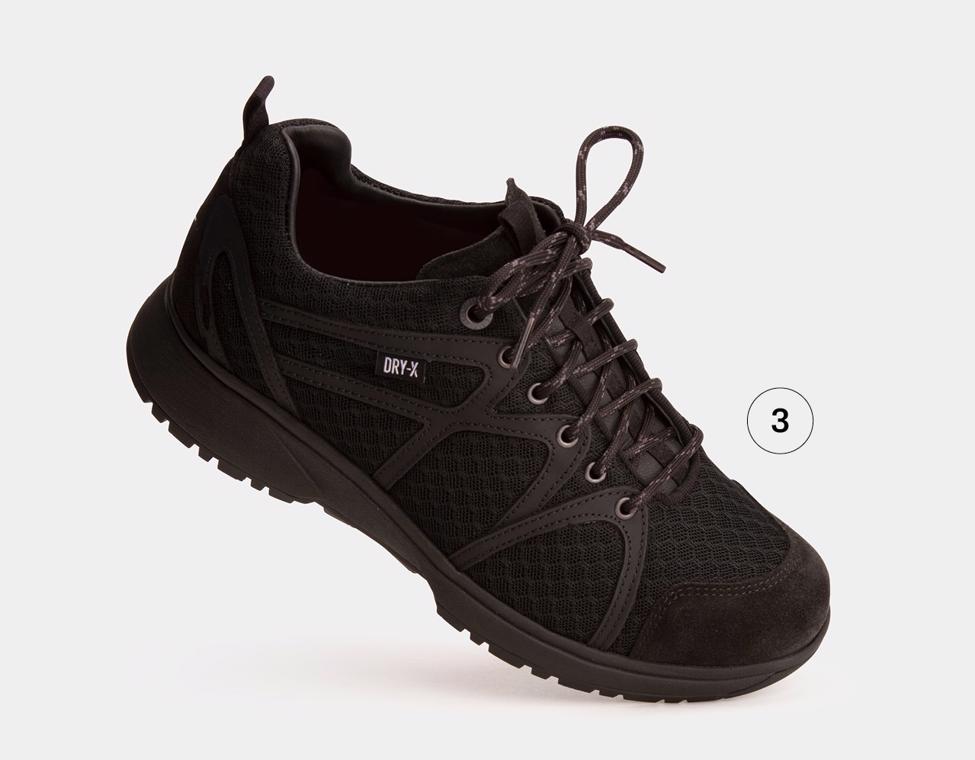 3. Membrane
Dry feet
Once you've pulled on your Stretchwalker hiking shoes, you won't want to take them off! At the same time, you want your feet to be protected when it rains or when you walk through wet grass or puddles. That's why we've applied Dry-X to the shoe – our high-quality waterproof technology consisting of a waterproof elastic membrane made of polyester. You can rest assured that this thoroughly tested membrane will keep your feet dry in all weathers.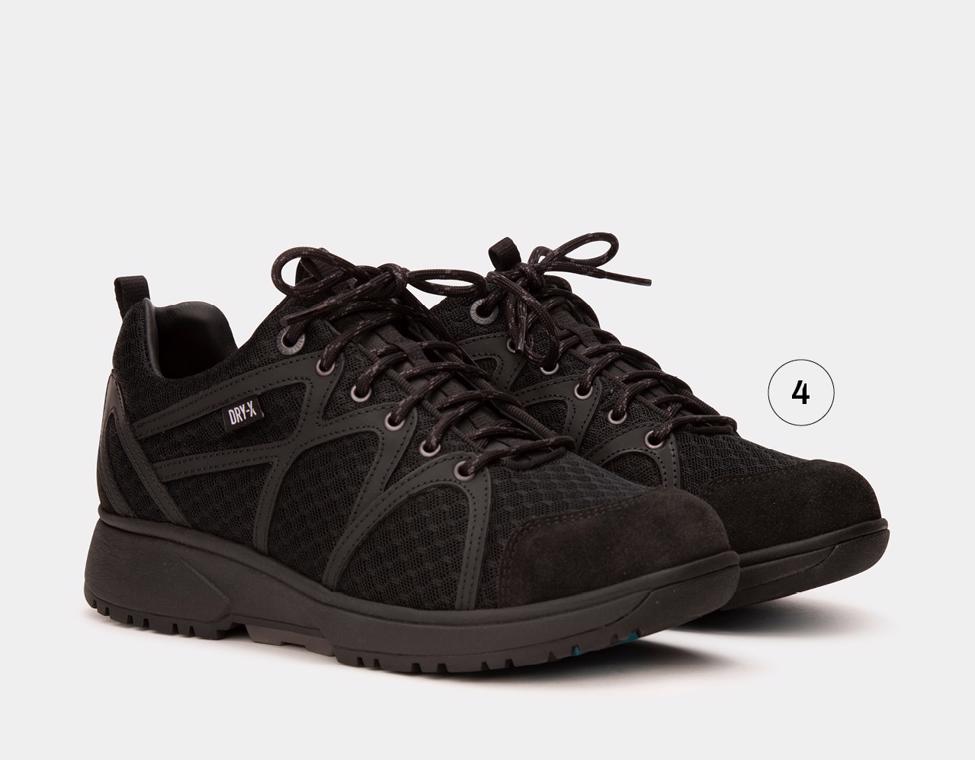 4. Water-resistant
Protected against the elements
Dry-X provides maximal protection from the moment you close the door behind you. Naturally, we've taken time with our development process, and in addition to the waterproof Dry-X membrane, we have also implemented many other smart innovations. For example, all of the seams are sealed, and the leather, textile and both laces have been treated so that they do not absorb water for long periods. The tongue of the shoe is also constructed in such a way that, together with the membrane, it keeps your shoes dry on the inside when you walk through puddles and the water splashes up.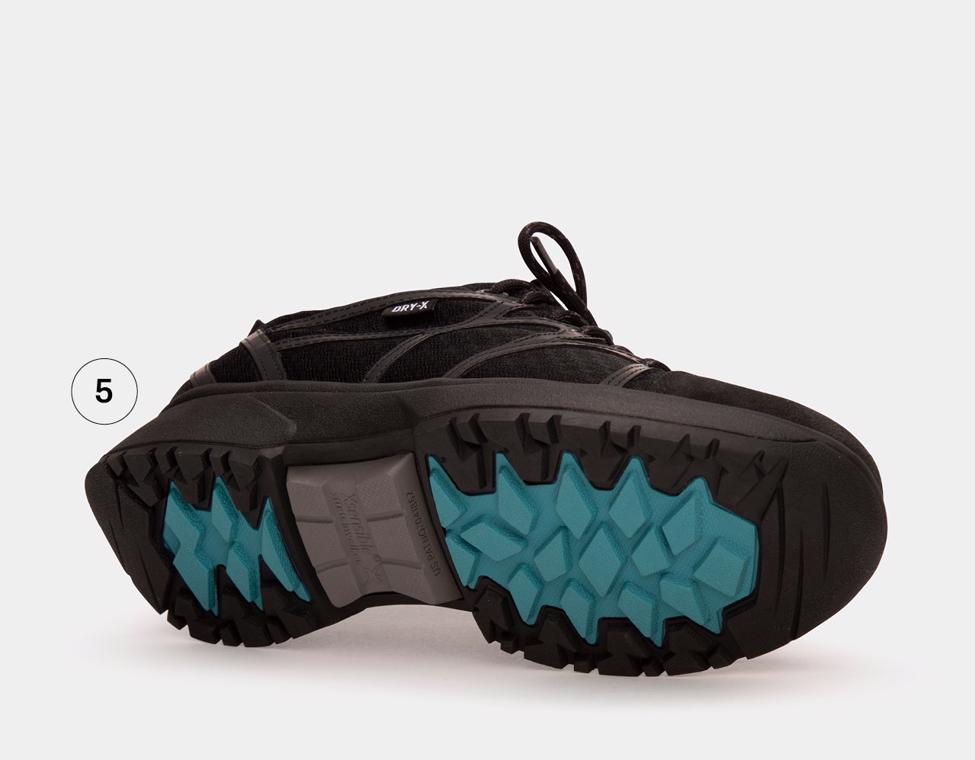 5. Reinforced sole
Ready to tackle more robust terrain
During the development of the new Stretchwalker hiking shoes, we took another look at the already high-quality rubber sole. We adapted the rubber profile for a greater anti-slip effect. We also increased the stability by making subtle reinforcements. Altogether, this results in extra grip during longer hikes on both paved and more adventurous roads.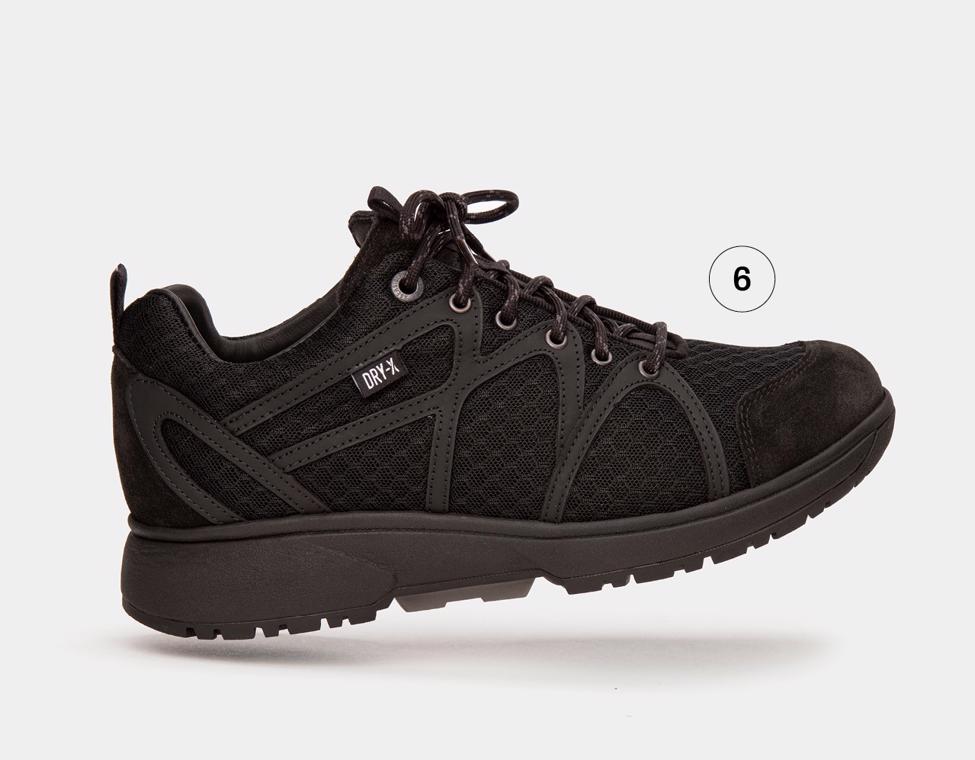 6. Lightweight
Light-footed on every hike
Whether you're on your way to work or hiking for days on outdoor trails, all of our Stretchwalker hiking boots come with additional carefully considered and innovative materials that dry rapidly and provide grip on smoother surfaces. These feel very matter of course, because we wanted to minimise concessions on comfort and weight. And you'll notice that with each step you take, no matter what your destination.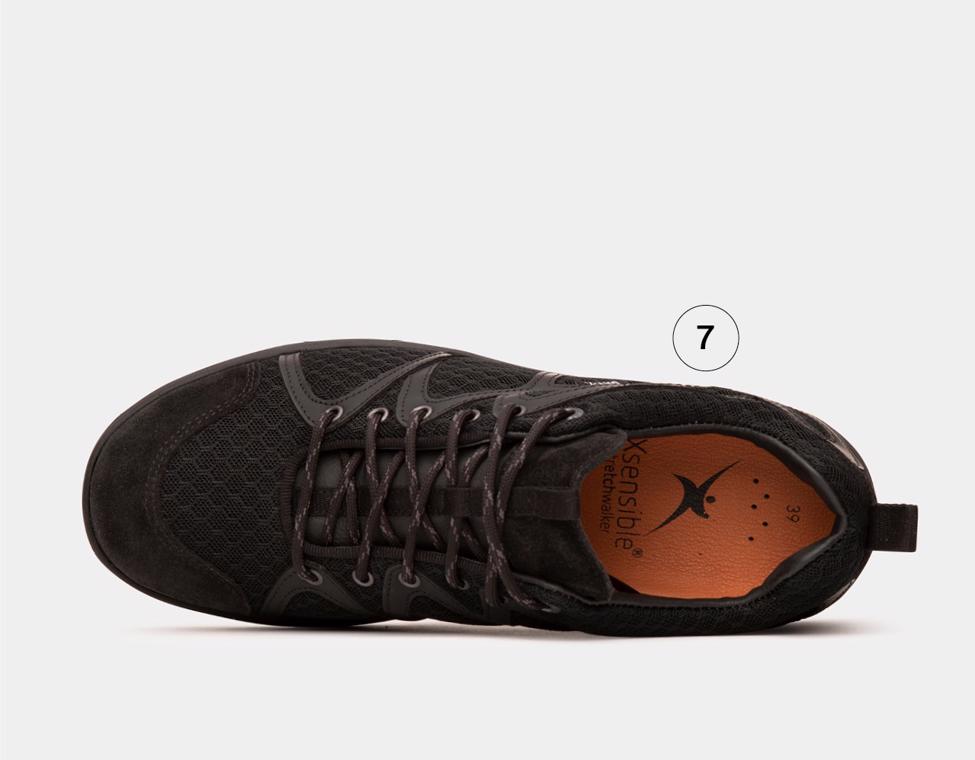 7. Removable insole
Adaptable to individual desires
Every foot is different, as is every body. That's why all of our Stretchwalker hiking shoes come with a removable memory foam insole. You can remove this completely, creating space for a customised insole – the perfect solution for people with sensitive and vulnerable feet.
Recommended for you
We think you'll like these
A selection of articles that you might also like